Sorry for the underwhelming title, but the fact is I've been stewing over a headline for over three hours, and I had to just get something written down, so there it is.

A little over eight days ago, I woke up to see that England had been unceremoniously beaten, bruised and bullied. In fact, the humiliation would only have been worse if Mitchell Johnson had put his finger in his mouth and placed it in the England batsmen's ears, before giving them all atomic wedgies. Of course, comparing Mr Johnson to a school bully is rather ironic considering that, throughout the First Test, he sported a moustache which screamed 'do not trust me with children'.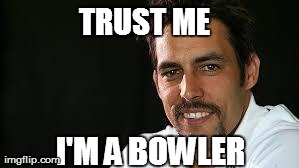 So how do England fight back? Graham Gooch, the England batting coach suggests that the game plan is to simply 'play better', but they will have to do so without Jonathan Trott, who has had to return home due to a stress-related illness. That said, how much England will miss Trott is open to debate, given that his form was worse than mine during a bench press attempt. The same goes for most of England's top order, of whom only Ian Bell is in anything like decent touch.
In Brisbane, England's problems centred around their inability to cope with the pace and bounce of Johnson and Ryan Harris, while Peter Siddle snarled a lot. However, given that the pitch in Adelaide is expected to be slower than a Gary Barlow sentence, Australia's pace attack ought to be blunted, giving England's beleaguered batsmen a chance to score a run or two. However, everyone said the pitch in Brisbane was flat, but England's batsmen ended up resembling the John Fisher Under 12 B team, the school XI for whom I batted at number four. And I once walked out with a chest pad and an arm guard...but without a bat.
Three years ago, England ran out comfortable winners here (I say 'here', I'm actually in an air-conditioned office in West London, not a swanky hotel in South Australia) thanks to a double-hundred from Kevin Pietersen and a first morning collapse from the Australians on a pitch flatter than Kate Moss. England will need similar bursts of inspiration if they are to overcome the hosts this time around, although given their batting displays of the last twelve months, that seems unlikely.
On balance, England's first XI is, to a man, better than Australia's, but the hosts seem to have stumbled upon a winning strategy on the field, coupled with a strong siege mentality and all the paranoia of Andre Villas-Boas in an Amsterdam cafe off it. When in form, England's batsmen and spinner are far better than what Australia can offer, while the Aussies have a better pace attack and are better at swearing at people.
Not sure why I added this, it just seemed funny.
All of which brings me onto my next point: sledging. Sledging is the politically correct way of saying 'being a twat', much in the same way that Rugby players define sexually outrageous acts on team mates as 'banter'. Of course, while Australia were shit over the last couple of years, sledging took a back seat while they quietly took their beatings, with the crowds staying away for fear of having to support their team through a difficult spell. Now that the team is half-decent, the crowds have returned and so have the verbal blows.
Not that I'm complaining. If Australia gain an advantage from hurling abuse at the opposition, then fair play to them. I think it's time England fought back with some aggression of their own, either through some witty put-downs or just by straight up punching Mitchell Johnson in his irritating rat face.
Too often you hear pundits say banal nonsense like "let's just hope there isn't any ill feeling or controversy". Bollocks. I want to see both teams going at each other from the outset. I want to see a total breakdown in diplomatic relations between England and Australia. In fact, I want to see both sets of players in a jungle in a Hunger Games/Battle Royale type scenario. That said, given that Peter Siddle is terrifying as it is and eats nothing but bananas, he would probably emerge victorious, parading a smiling Joe Root's head on a spike.
Peter Siddle in 'sex face' mode
I guess what I'm trying to say between hypotheticals is that the edge that Australia have brought to this series is what has made it such a fascinating contest. Without it, Australia would be having to rely on talent alone. Therefore, England have a choice of either turning the other cheek in a delightfully English way and playing some bloody fine cricket on the field, or going toe-to-toe in the sledging stakes.
As for personnel, Australia are likely to stick with the same side which did the damage at the Gabba, while England will need to make at least one change, given Trott's absence. They are likely to go with Jonny Bairstow, that guy who batted well against South Africa once. As for the bowlers, James Anderson and Stuart Broad will be hoping to be joined by a third seamer capable of actually...you know...getting people out. England's bowling attack of the last few months has been a bit like the Sugababes; constantly changing personnel but unable to find the right formula. Leaving that crap analogy behind, expect Chris Tremlett - picked because he was tall - to be replaced by either the returning Tim Bresnan or Peter Crouch.
In two days time, we will see what England have in their locker. If Australia continue where they left off in Brisbane, then a 2-0 lead - and thus the prospect of me simultaneously crying and vomiting into my cereal - is extremely likely. I still feel England will get back into the contest and are still slight favourites to retain the Ashes. Indeed, the hallmark of the current side is to respond well to crushing defeats, and they will have to do the same in Adelaide, or Johnson and co will streak away to an Ashes victory.
And that's just not cricket.